T-Shirts
$15 USD
includes tax and shipping anywhere in North America. For foreign orders please
email
us. Get your very own GoonBlog: The T-Shirt now: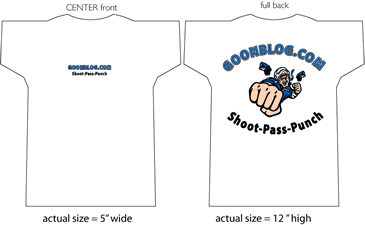 Not sold? Click the above image for a larger version.
Hello, bruisers. We're pleased to introduce the first version of the official
GoonBlog: Shoot, Pass, Punch
T-shirt! They are available in men's Small, Medium, Large, XL and XXL with options for the ladies soon to come. In the meantime a small or medium will do the trick for your better half - as
GoonBlog Girl
Emma makes perfectly apparent in the following photos:
You can't watch your favorite hockey teams beat the stuffing out of each other all the time. Try playing
bingo online
for a less physical change of pace.