About
GoonBlog.com is the brainchild of three high school buddies who share a love of hockey, hockey enforcers, hockey fights and general debauchery. Looking back, perhaps brainchild is a strong word. 'Beerchild' might be more accurate. Entering it's fourth year of existence the web site has been quoted on numerous hockey blogs, various sports media outlets and was even featured in the New York Times as one writer's "favorite source of new hockey journalism". Simply put, our little labor of love might be on to something, and we've thoroughly enjoyed the adventure thus far.
Chris - The Heart and Soul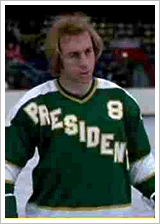 Chris is from the hardscrabble streets of Concord, MA. Born a hockey player, he's lead every league he's ever played in from street hockey in front of the house, to the California Penal League in PIM. In High School his dreams of playing in the NHL were shattered when he was introduced to Budweiser, and the United States Marine Corps. That, coupled with the fact there isn't much call for a 5'6" defenseman who skates like he has a parachute attached to his hindquarters, dashed his dreams of one day playing in the show. Always a fan of the tough guys, his love of hockey and hockey fights has continued to this day. Chris currently resides in Acton with HOL until she comes to her senses and kicks him out. Chris would love to hear your personal goon experiences and stories so please feel free to email him, anytime.
Killer - The Instigator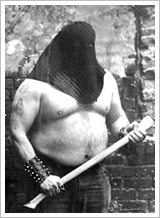 Killer has been involved with hockey since the last time the B's hoisted Lord Stanley and unfortunately that has been a frig of a long time! Once a gifted goal scorer, he now relies on his soft but supple hands to dish the biscuit during his weekend hockey warrior excursions. He's given more elbows than Barack Obama has lifted speeches – to date - and been knocked out by goons from all over the Globe. Killer enjoys long walks in the combat zone, handcuffing his Million Dollar Babies to their cribs and emails from our readers.
The Ref - The Man Behind the Curtain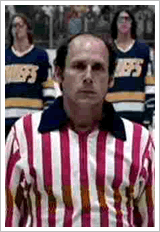 The Ref has been a fervent hockey fan since his youth spent in the barren wilds of Ottawa, Canada. After he moved to Massachusetts in his sophomore year of high school, and fell in with a bad crowd, his mild mannered and studious persona became that of a beer soaked, Massholish Bruins fan. Today he helps author GoonBlog.com with that very same bad crowd, Chris and Killer. Dave maintains the geekier and business aspects of the website, and if you'd like to speak to him about advertising, partnerships or Indiana Jones - send him an email anytime.